Teachers & Librarians
Hello, my favorite people in the world. As a former Headstart teacher and a children's library associate, I know firsthand how hard you work to nurture and inspire children to become lifelong readers. Thank you so much for the creative, life-affirming work you do. I hope my books find a place in the hearts of your students! 
Read an Interview with Tricia by visiting the Young Adult Books Central website.
Read an Interview with Tricia by visiting the Beth McMullen Books website.
Read the interview with the illustrator of the Cody books, Eliza Wheeler, on the Bookology Children's Literature website.
---
Teaching My Books

Use these discussion and activity guides to bring my books to life! To arrange a visit or a free Skype session, see below.


Looking for True


Looking for True Educators Guide
Download PDF

The Most Perfect Thing in the Universe
Video (click here and then click on the book cover)


The Most Perfect Thing in the Universe Educators Guide
Download PDF

Khalil and Mr. Hagerty and the Backyard Treasures
View Page

Moonpenny Island Toolkit
Download PDF

Every Single Second Reading Guide
Download PDF
Cody and the Fountain of Happiness
excerpt from September 2015 Candlewick Press Classroom E-Newsletter
View Page
A guide to using
Phoebe & Digger
in the classroom and library.
Phoebe & Digger Read to Us Story Hour Kit

Download PDF
Mo Wren, Lost and Found
HarperCollins Discussion/Project Guide

View Page
(click on Reading Guide)

A guide to discussion questions and hands-on activities.

What Happened on Fox Street
HarperCollins Teaching Guide

Download PDF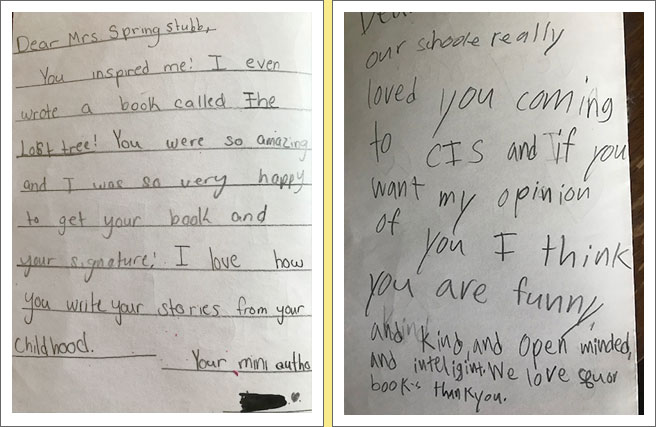 Arrange a Visit

I've visited schools and libraries across the country, and would love to visit yours. I offer fun, interactive presentations about my writing process, including where I find ideas and inspiration, my research, my many (many) revisions, and how I collaborate with illustrators. All presentations include a slide show, Q & A, and brainstorming activities. I also love to do writing workshops for smaller groups as well as literacy-based family programs. My goal is to encourage all students, not just future authors or illustrators, to believe in themselves and their ability to create.
I also do free virtual visits, up to twenty minutes, with groups familiar with my work
To arrange a visit, please contact Terry Shay at SchoolVisitDotConnector.com Terry is a former teacher who knows how to make visits magic for your students and easy for you.
Questions about visits or anything else? Get in touch here: 
(All fields required)