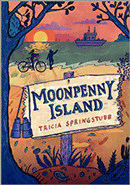 Moonpenny Island
(for ages 8-12)
By Tricia Springstubb
Illustrated by Gilbert Ford
Balzer & Bray, HarperCollins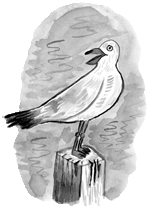 Available in hardcover, paperback and e-book.
Available at:

IndieBound
Mac's Backs
Barnes & Noble
Amazon
Bookshop.org
Check out this wonderful resource made by the State Library of Ohio especially for Moonpenny Island. It's a toolkit brimming with science and language arts activities, discussion questions, follow-up readings and more.

Moonpenny Island Toolkit
Download PDF

Reviews:
...just the right mix of sorrow, compassion and intrigue...As in all well-written children's books, (this one asks) questions not just for young people, but for all of us. – Holly Goldberg Sloan in the New York Times
A unique protagonist who, like a fossil, creates an imprint that remains long after her story is finished. – The Horn Book
The novel weaves complex layers of fresh, relatable imagery and charming characterization across education levels, cultures, and generations, beautifully teaching that our shared humanity is one thing that doesn't change. – Publishers Weekly, starred review
Flor learns what it means to really see the world around her as it is and not just the way she imagines it. Springstubb delivers a beautiful tale of friendship, family, loss and renewal. Her third-person narration is razor-sharp…Poetic and poignant…so fresh and honest it will resonate widely. – Kirkus, starred review
Tricia Springstubb tells Flor's story of shifting, unmappable hearts with the honesty and grace of a changing tide, letting Flor ride her bicycle right off the page--and straight into the reader's heart. – Sheila Turnage, Newbery Honor-winning author of Three Times Lucky
A Junior Library Guild selection